Vendors
For Vendors in Jacksonville, Topsail, Sneads Ferry, Holly Ridge and Surrounding Areas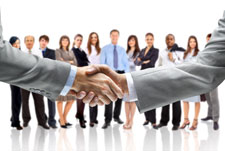 For more than 30 years, we've taken tremendous pride in offering our clients in Jacksonville, Camp Lejeune and elsewhere outstanding customer service and a dedication to getting the job done right, right now.
If you'd like to become a part of our award-winning team as a trusted vendor, please complete the forms below and fax them to 910.353.2001. We'll contact you to schedule an interview to find out more about your services and see if you have what it takes to be a part of the Advantage Gold Realty team.
Offering Real Estate and property management services in Jacksonville, Hubert, Richlands, Sneads Ferry, Holly Ridge, Topsail, Swansboro, Maysville, Beulaville, Camp Lejeune, Surf City, New River Air Station, NC and the surrounding areas.
Thank you for your interest in becoming one of our Preferred Vendors.
We are always looking for highly qualified vendors to team up with us to give our clients and our tenants the best possible service. It is imperative that you understand upfront that we uphold a high standard of service for not only those directly employed be our firm but also with any third party vendors in which our clients depend on for quality maintenance and repair. We expect all work to be completed on-time, at the cost agreed upon and with the highest quality of workmanship afforded. Your work is a direct reflection on our company and we take pride in our performance.
Vendor Requirements:
Vendor Agreement
Independent Contractor Statement

Proof of Insurance: Advantage Gold Realty, Inc. requires an up to date General Liability and Worker's Compensation Certificate of Insurance to be on file for all vendors. The certificate must verify that your company maintains a minimum of $1,000,000 in General Liability Insurance and include Advantage Gold Realty as additionally named insured. Please ensure that you have submitted an up to date Certificate of Insurance to avoid payment processing delays.

If you do not have Worker's Compensation insurance you will need to fill out the attached "Independent Contractor Statement" form on a yearly basis in lieu of a Workers Compensation Insurance.   This only applies to Sole Proprietor's that do not have ANY employees.

Failure to comply with this requirement can be very costly to our Corporation; therefore, payments for services performed cannot be processed without this information. We appreciate your help and understanding in this matter.

W-9 Form: "Request for Taxpayer Identification," a standard form issued by the IRS required by companies that hire independent contractors.
Become a Preferred Vendor