Community Associated Management
Worry-Free Home Owners Association Management Services in Jacksonville, NC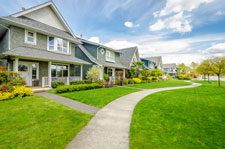 Advantage Gold Realty is Jacksonville's Premiere Real Estate Management Company. Our company provides you with the highest quality management service at an affordable rate. As a testament to our quality service, we continue to grow every year through referrals from our satisfied clients and customers.
Simply put, we make your community…and you…look great!
Our Management Services Include the Following:
Annual Budgeting
Assessment Billing
Collections
Financial Reporting
Enforcement of Restrictive Covenant Violations
Coordinate Maintenance Issues
Maintain Ongoing relations with Members and Board of Directors
Attend Annual Meetings
Review Contracts and Secure Bids
Perform quarterly Property Reviews
Prepare and Distribute Meeting Notices
Board and Committee Coordination
End of the Year Tax Reporting
Maintain Associations Records
Liaison to Associations Attorney
Administrative
+
Full-time staff support
Attend all annual meetings
Distribute meeting notices
Distribute welcome packages
Maintenance and service contracts
Newsletters
Assist homeowners regarding questions and issues
Consistent physical office, phone number and address
Stability in business operations during leadership change
Finance
+
Computerized accounting
Association management software
Prepare and distribute annual budget
Take action on delinquent accounts
Assist CPA with audits, reviews and taxes
Process and pay all expenses
Reconciliation of bank statements
Maintain the association's operating bank accounts
Property Supervision
+
Issue violation notices in accordance with the association's enforcement procedures and governing documents.
Perform regular property inspections of the common areas
Review work provided by sub-contractors
Issue work orders/service requests
Solicit contractor's bids
Coordinate all maintenance and repairs
To see how we can help you make the most of your community, call 910.353.2001 or click here to contact us via. email today! You'll wonder how you ever managed without us!
Offering community association management services in
Jacksonville
Hubert
Richlands
Sneads Ferry
Holly Ridge
Topsail
Swansboro
Maysville
Beulaville
Camp Lejeune
Surf City
New River Air Station, NC
and the surrounding areas.
Community Association Management Inquiry